For the regular anime fan, fanservice and ecchi elements are often accepted as part of the package viewers sign up for. It may be a reason why some misinterpret anime as being a popular variety of porn, but it's also something many find enjoyable or merely unobtrusive. But when you're a Christian, it can be harder to get past the times the shows you love seem to scream nothing but sex. I've been concerned about this ever since I became hooked on anime, but over time the Lord has helped me come to understand how I should approach the problem of pornographic content – which extends beyond anime and into my similar love of literature – and what to do about temptation when it strikes.
Flee the evil desires of youth and pursue righteousness, faith, love and peace, along with those who call on the Lord out of a pure heart. – 2 Timothy 2: 22
Now granted, the verse above isn't really about sexual 'evil desires'. In context, it's more directed at the rebellious spirit of youth that rejects the experience of older generations, the typical trap of thinking that you 'know everything'. But even that context spills into the issue of how we respond to sexualization in what we watch. The thought that we have everything under control and won't become slaves to sinful thoughts is exactly the kind of pride that stems from 'youth', and a dangerous step that can lead a Christian into sin. Not only is the lust that we can fall into an evil desire, but the idea that we are the masters of that potentiality for sin also. They are both things we need to flee from in order to maintain a steady walk with God.
But how do we distinguish where in anime these 'evil desires' could arise? If we're counting any image that could stimulate the viewer towards sinful thoughts, that can go for pretty much anything. And really, that's the stance we should take – the enemy can use anything to tempt us, so we have to always be on our guard. Still, we can avoid obvious sources of temptation, right?
I thought things were easy until I watched Kill La Kill.
For a long time my process had been simple when approaching a new show: check the genre, cover art and OP for any signs that the series was more directed at what's beneath my waist (including the legs I might need to 'flee' from it). Then one day a non-Christian friend recommended Kill La Kill to me, after I'd already given it an instant pass for its ecchi tag. He explained that it was 'not that kind of show'. I shrugged it off, however, and it was only weeks later that I found myself giving the series a try. In the end, it wasn't a logical weighing up of pros and cons. I read a few reviews that praised various aspects of the show, but none of them celebrated the sexual content I'd been otherwise constantly concerned with. I got the feeling – and it was just a feeling – that I might have judged a book by its cover. And so I gave the show a chance. And boy, did it pay off.
The thing I immediately noticed about Kill La Kill was that its ecchi parts weren't… ecchi. Not in the way I'd envisioned the genre. I felt that it was part of the purpose of the art style, making it harder to see the bared flesh as something to desire. Rather, the show makes you want to think about it expansively, becoming more and more self-conscious of the illustrations and accusations that it makes as a parody of other over-hyped action shows and over-sexualized fanservice flicks. For me, a lot of the series boils down to understanding that it's not nudity that's the problem – it's how people view it. It's how you view it as the person behind the screen. When Ryuko becomes unashamed of being almost naked in her armour in episode 3, she's not inviting men to stare at what's exposed. She's rejecting their glares and embracing the fact that there are more important things to think about than sex and other people thinking about sex.
It struck a chord with me. Here I was trying to 'flee evil desires', and now a character's journey in an ecchi-labelled show was directing me straight back to that verse, and to others. I realised I'd been dwelling on things of Earth and not of heaven (Colossians 3:2) in my worries about the show and in the other sexualized images and ideas that passed me every day. I wasn't bringing things I thought were sinful before God, when that's what I should have been doing for everything to stop those thoughts from leading me into sin.
When talking about a similar subject, my Church's pastor explained his aptly-named 'bounce' method when dealing with the eye-catching sight of an under-dressed woman on the street or a potentially pornographic image in a movie – he would 'bounce' his eyes to look at something else. An instant, disciplined reaction. Kill La Kill led me to naturally construct a similar 'bounce' method; any sexualized image would 'bounce' my mind into thinking about the themes, questions and Biblical connotations of the show. I would hardly think about the fact a character is almost naked – indeed, Ryuko's lack of armour in places becomes irrelevant and unnoticeable after a while, since it was hardly sexualized in the first place – and instead think about aspects of the show that would lead me to Scripture. This approach even led me to appreciate the famously uncomfortable and more sexually-charged 'bath scene' in episode 16; the breaking of multiple sexual taboos in that moment is disgusting, but with the right mindset it becomes integral to our understanding of Ragyou and the sinful and detestable existence she represents, which the viewer only wants to flee from regardless of spiritual belief.
Watching Kill La Kill helped me understand an important part of avoiding temptation: identifying the problem is only one part of the solution. There's no point fleeing if you don't have somewhere to flee to, and for me, that means engaging my mind with what I'm watching on an analytical level in order to line up those thoughts with the Word of God. Even with the stranger art style, some scenes in Kill La Kill have still threatened to lead me into sin; I know there's something attractive about Nonon that sometimes makes my mind wander in the wrong ways. But we're taught to take captive every thought (2 Corinthians 10:5) to make it obedient to Christ. So by stopping myself at simply admiring her (for whatever it is I'm admiring, I'm never quite sure what) and once again bringing her character in line with Scripture, I'm fleeing from the evil desire that can arise at times and instead turning to thoughts of what stands for righteousness, love, faith and peace – since, ultimately, God's word is always useful for 'training in righteousness'. I can do this while watching the show and actually enhance my enjoyment of it; I may lose a little bit of immersion, but it's a small price to pay for having a mindset that avoids falling foul of temptation.
But wait – what was the context of that verse again? The problem with championing this mindset for myself while I watched Kill La Kill, while it worked for that show, was that I then thought I could apply it to something completely different. And so I ignored the countless warnings I got about the music video to Teddyloid's ME!ME!ME!. And boy, was that a mistake.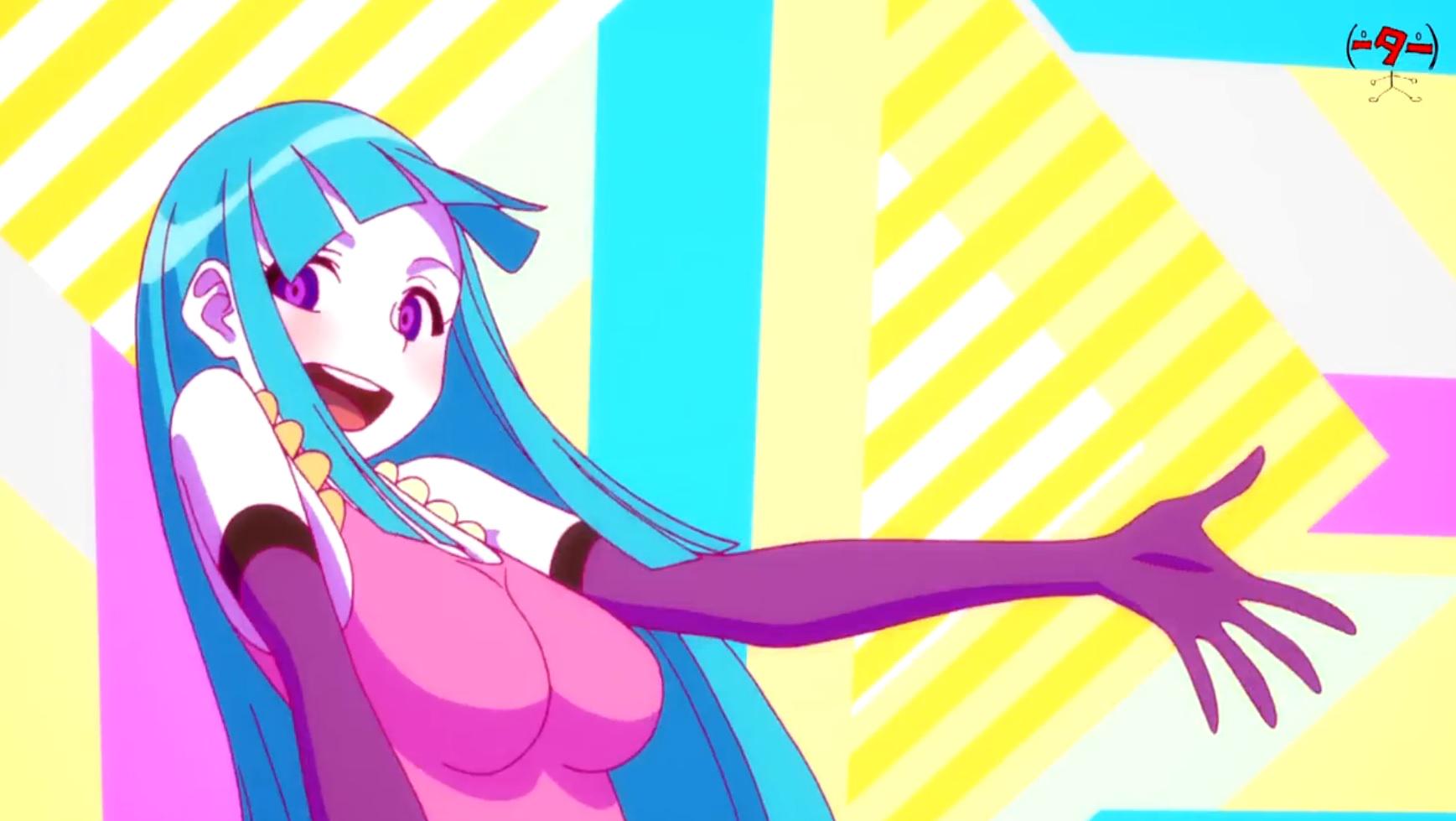 The problem with ME!ME!ME! lies in the way it conveys its 'message' of the horror of a porn-obsessed hikikomori lifestyle; it uses pornography. It uses a very good depiction of the process of watching pornography itself. What starts as innocent, playful dancing becomes focused shots of fanservice, which then turns into swimwear, before the whole thing becomes a trance-like abyss of girls wearing nothing but sexualizing jewellery acting as erotic as they can manage. It wasn't the intentionally disgusting spectacle that stunned me in stopping the video halfway through though; it was the fact that watching it had, despite all my prior ideas of lining the video up with Scripture, completely bypassed all my defences. I had been sucked into that pornographic world as the director had intended, and once I finished the video purely to be able to sterilise the images in my mind with analysis (which did, eventually, numb how arousing they were), I realised that, like Kill La Kill, I had been challenged as a viewer. I had been right inside the protagonist's head, just as I had been empathising with Ryuko's reluctance to allow her flesh to be shown. But in the video to ME!ME!ME!, unlike in Kill La Kill, there is little love or peace or righteousness. It's a powerful accusation, and has a lot of artistic merit, but it isn't something I would have wanted to watch as a Christian, as part of its artistry required me to sin. I can't celebrate any art like that.
So why did things go well with Kill La Kill but not with Teddyloid's video? The answer lies in the one thing I was missing – trust in the Lord. Once I'd gained an idea of how I could take captive a thought a make it obedient to Christ, I deceived myself into thinking that all sinful thoughts could be conquered in this way as long as something was artistically interesting enough. It was a feeling that had built on my studies of Angela Carter's The Bloody Chamber, which fits the genre of erotica quite neatly. I was too prideful in my approach and I ignored what I now see, in hindsight, was a spiritual warning. I thought I could take my thoughts as I watched the ME!ME!ME! video captive, but I didn't take my thoughts before watching it captive. And thus, the Lord used this failure as a lesson which comes back to me every day (especially since I unfortunately like Teddyloid's music); my first thoughts when unsure about a show – really, my first thoughts when approaching any show no matter how I feel about it – should be to him, and not to my own intellect.
I'm not ashamed to admit these mistakes, as the Lord has forgiven me and is still using this today in my walk with him, since he works in all things for the good of those who love him and are called according to his purpose. But I'd hate to see other Christians fall into any of the traps I've fallen into over time:
1) Nudity and sex in media is not 'evil'. You have evil desires that can lead you to sin, but you also have God inside you, and you can work with him to make your thoughts about those things obedient to Christ. As parts of Kill La Kill suggest, a world without evil would be a world where everyone could be naked without the masses lusting and nosebleeding around them. If you have God in your life, you also have the armour of God that can put out the fiery arrows of the enemy and march onwards in the valley of the shadow of death, not being afraid of evil because the Lord is your rod. You should not be afraid of things created by man that invite you to sin; you can control that invitation and even turn it into one of worship for God.
2) That being said, you can't do this on your own. A strong experience working with God can sometimes lead you into thinking you can do as well on your own – but the only way the Bible can be understood is if God is working with and within your meditation upon it. How then can you expect to line up tempting content in anime with Scripture if you start by rejecting the guidance of the Lord that you have already received? No matter how well-armoured the follower of Christ is, he does not go looking for temptation, and neither should you venture into areas where either Christians or God himself are telling you to back off. If there's one main thing I've gained from watching ME!ME!ME!'s video, it's that I will do anything I can to stop a fellow Christian from watching it if I can, just as I was spiritually warned not to watch the video in the first place.
Those are the two lessons I've taken from my experience with sexualized characters and themes in anime so far. I'm not sure whether I'd recommend Kill La Kill to a Christian friend or not; it would have to depend on how I understood that person's spiritual walk and God's own guidance on the matter. On the other hand, if you haven't watched ME!ME!ME! yet, don't. In many sexualized shows you can find something to please or glorify God with, but not in all of them, and I'm sure it's not worth wading through the filth in some of them when you could simply watch something far more fulfilling that God isn't trying to push you away from. Always take his guidance first, and the security in your own understanding last, until you have grown in the wisdom that would warn you away from the same things yourself. I pray that God will help me develop that wisdom, and grant it at the times I need it most, so that I can take every thought captive and enjoy what I watch as a Christian to the fullest without compromising my love and devotion to God.
 .
If you read through all of that, thank you! This feature will – God willing – run every Wednesday (GMT) from now on. I've started with one of the harder and more pertinent topics to my personal faith, so future articles might not as as long.
As always, don't hesitate to like and subscribe, and comment below with any of your own thoughts on this issue or something else you'd like me to write about! Any suggestions for future articles will be awesome, since I'll probably run out of ideas quite quickly. xD
Thanks again, and may God bless your enjoyment of anime.